Italy and Art in Sheboygan
Ok, so last October I'm watching Wisconsin Foodie on PBS and I knew as soon as host, Kyle Cherek, started discussing the pork chops with Trattoria Stefano owner, Stefano Viglietti, that I was going to be making a day trip to Sheboygan.
You see, I was the weird kid who could have any meal I wanted for my birthday and I ALWAYS chose pork chops. And these clearly were not my mother's pork chops. (Sorry, Mom.)
Plus, it gave me a great excuse to stop in at the Kohler Arts Center – which is only a few blocks away from Stefano's trifecta of downtown eateries: Field to Fork, Il Ritrovo and Trattoria Stefano.
My friend, Kris, was kind enough to keep me company on this little Sheboygan adventure, so we headed up north on Saturday and started with lunch at Il Ritrovo.
I am by no means a food critic, but what follows is a brief photo journal of our gourmet day.
We split a Bufalina Bianca pizza with bufala mozzarella, bufala ricotta, smoked mozzarella, parmigiano, prosciutto di Parma, fresh tomatoes and arugula. It was very Neapolitan and we had a great view of the wood-fired oven.
Our server, Jason, was very friendly and also told us about Stefano's fourth restaurant which is on the river, The Duke of Devon. Darn, I guess we will just have to go back.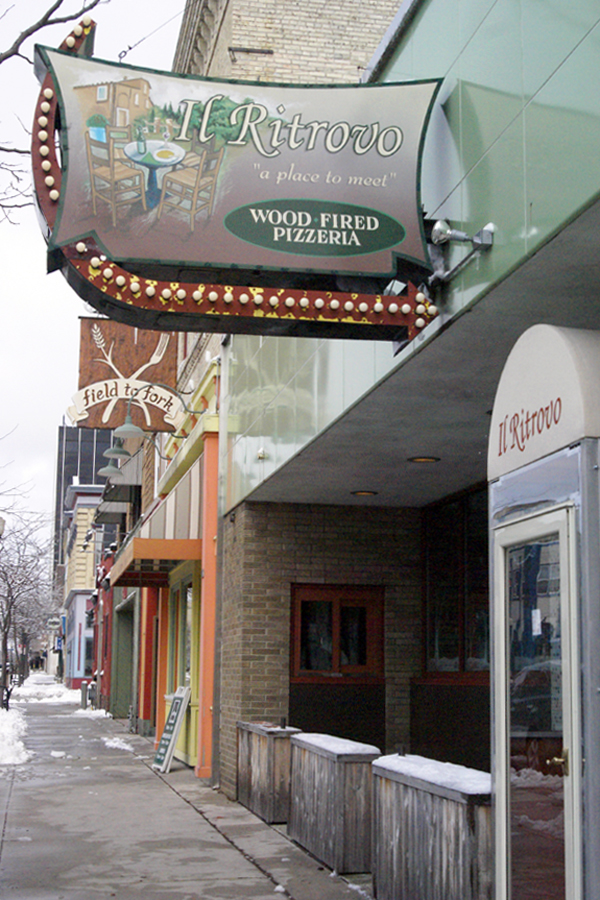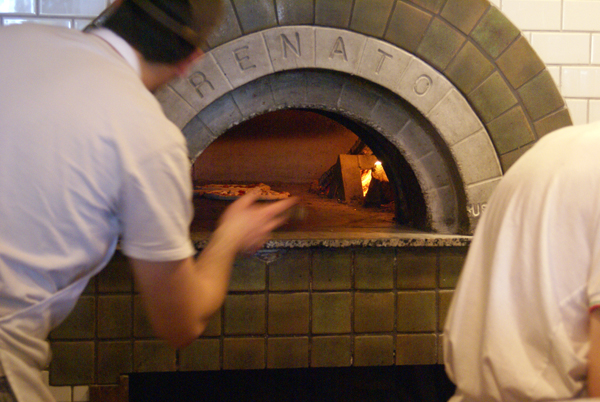 Kris and I perused the selections of fresh cheeses and produce in the shop and then we headed straight to the John Michael Kohler Arts Center. We thoroughly enjoyed Mark Fox's installation, Dust, and even got photographed in a few of the center's professional photos. They don't allow public hacks like me to take photos in the building – except for their world-famous bathrooms. Below is a photo of the gorgeous tile in the women's bathroom at the entrance.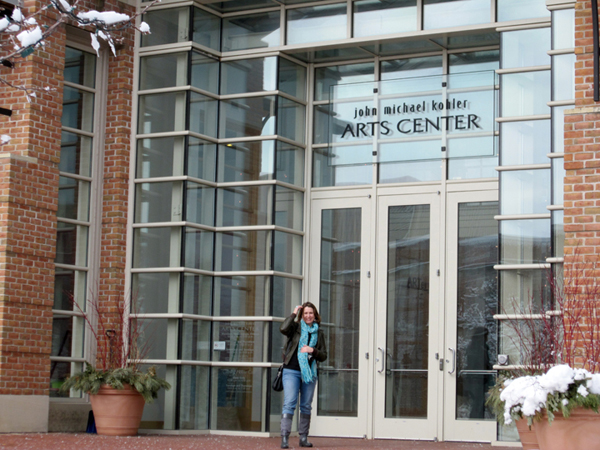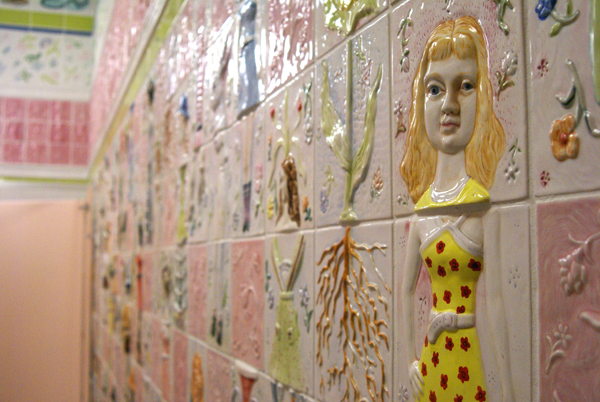 This is just a pretty picture of the church through the trees outside the JMKAC. We weren't going to let the cold get in the way of a great day trip.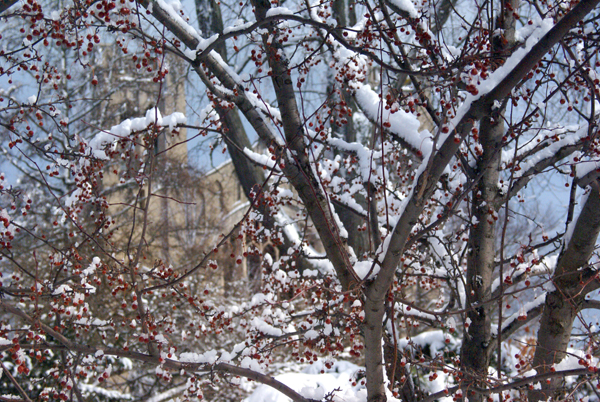 We had some time to kill, so we FORCED ourselves to go shopping at The Shops at Woodlake. Then we returned to Sheboygan's little corner of culinary heaven for the pasto principale (main meal) – those infamous chops with the locally-sourced ingredients.
Again, I am not a food expert, but our server, Reed, was just lovely and very knowledgable about, well, everything. Kris had the tuna special and I, of course, had the Cotoletta di Maiale con Guanciale: Pan-roasted Willow Creek Farms pork chop stuffed with smoked pork jowl, pancetta, garlic, rosemary, parsley and water buffalo caciocavallo cheese. Topped with tomato conserva and a white wine pan sauce. Served with mashed potatoes, cream-braised fennel and fresh sautéed spinach. Need I really say more? The awesomeness speaks for itself.
We preceded the meal with some excellent cuttlefish and ended the evening with a little slice of chocolate decadence.
I think Kris summed it up best when she said that meals like the one we enjoyed Saturday at Trattoria Stefano, "Make your life better."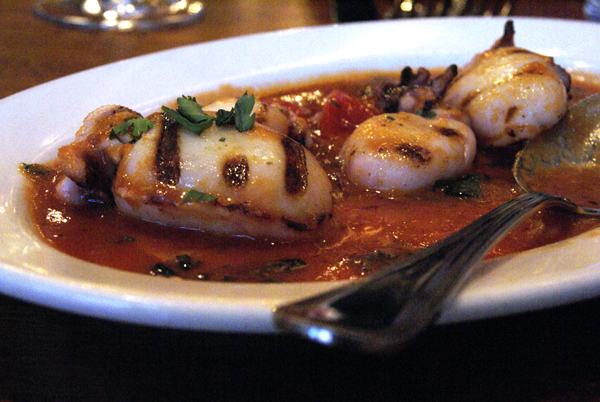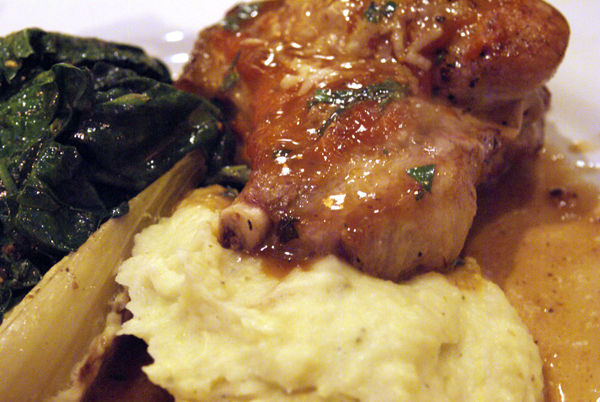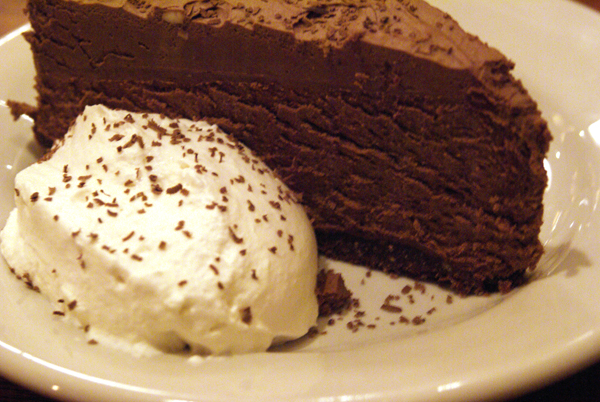 Ciao, Il Ritrovo and Trattoria Stefano! Thanks for making our lives a little better – one pizza and pork chop at a time.
– Tyra Baumler
Owner, Tessera Design